Fly over the window
Posted on Wed July 4, 2012.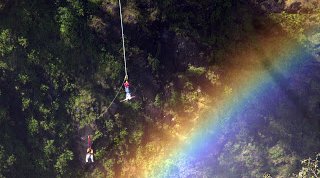 Bungee Jumping over the rainbow !! At our recent holiday at the spectacular Vic Falls I took this photo of the brave ones jumping from the bridge over the Zambezi river. (Wonder what happened to the Aussie girl that made history by falling in the river when the rope snapped. )
We stayed in the wonderful Vic Falls Hotel and enjoyed every moment of the luxury. High Tea in the afternoon on the veranda overlooking the Falls was a delight . The evening dinners with the tribal dancers was most enjoyable. We also went on a Zambezi river dinner cruise that we enjoyed and I took such beautiful photos of the sunset (next blog)
The helicopter flight was just as exciting ! My advise.... this is one of the MUST TRIPS !
you can put it on your bucket list.